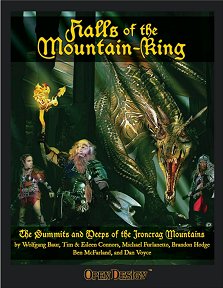 This project, an adventure for 8th-12th level characters, was written simultaneously for Dungeons & Dragons 3.5 and Dungeons & Dragons 4e, but released as separate books depending on ruleset. Patrons had the choice of which edition to be involved in, and as usual it was only made available to them. However a Pathfinder RPG version was released on normal sale in 2015.
Publisher's blurb: "Halls of the Mountain King is an untraditional dungeon, an homage to Moria and Undermountain that adds a few twists. Plot and story were worked out collaboratively in the private Open Design forum. The dwarves are a hard-working group, whose mining of adamantine lured them ever-deeper and whose pursuit of ore led them into dangerous territory. The vertical dungeon goes from the depths of the earth through the great halls and works of a vanished clan, up to a snowy mountaintop spire and an (optional) airship dock."
More when I get hold of a copy!
Book Details:
Authors: Wolfgang Baur, Tim Connors, Michael Furlanetto, Brandon Hodge, Ben McFarland, and Dan Voyce
Publishers' Reference: Unknown
ISBN: n/a
PDF, 170 pages
Date: 2009
Buy this product:
Not on general release, and as it was published in PDF (albeit with a print-on-demand option) it is hard to find.
Product page last updated: 10 October 2015