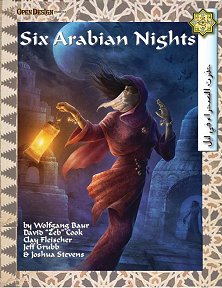 A fun-sounding collection of adventures with an Arabian-style theme, alas hard to find due to the patron-style creation.
Publisher's blurb: "Dive into the wildest desert and visit the lushness of Siwal, City of Gardens, in this collection of six Arabian adventures by designers old and new. It offers a new Arabian city, its foes, and its brave people, led by the Sultan Al-Mamun and the Vizier Akil ibn Khaldun—and a host of genies, ghuls, assassins and pirates.
"This short adventure anthology is adaptable for low to mid levels (roughly 5 to 10). The style is episodic, with the short pieces chosen by the patrons. These adventures could be one-shots in any campaign, very plug-and-play. The chosen pitches and their authors are:
The Blood Oasis: Ghuls have been doing some nasty, nasty things out at the oasis. By Jeff Grubb, author of TSR's Arabian Adventures book.
Bottled Desire: A bit of romance and chase through a crowded market from David "Zeb" Cook, the designer of Planescape and the 2nd Edition D&D books.
Cult of the Howling God: Cultists, assassins, and corruption. Classic pulp adventure. By Wolfgang Baur, founder of the Open Design series.
The Gravebinder's Daughter: A one-night trek through a huge necropolis full of secrets. Also by Wolfgang Baur.
The Sand Pirates: Nautical action on a flying ship, with new monsters and a half-efreet captain. By Clay Fleischer.
Wishbound: A corrupted genie seeks redemption, with a small twist to the ending. By Joshua Stevens.
More when I get hold of a copy!
Book Details:
Authors: Jeff Grubb, David 'Zeb' Cook, Wolfgang Baur, and Clay Fleischer
Publishers' Reference: Unknown
ISBN: n/a
PDF, 94 pages
Date: January 2008
Buy this product:
As with other patronage products this wasn't made available publically, and with distribution being mostly PDF with a print-on-demand option, it hardly ever turns up!
Product page last updated: 10 October 2015