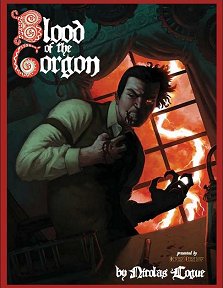 Billed as a horror mystery for adventurers of 8th-9th level, this work suffers the unavailabilty blight of patronage projects and is rarely to be found.
Publisher's blurb: "Men always seek the blood of monsters. Some spill it to avenge their massacred families. Others swim through an ocean of gore to find treasures worth the envy of kings. A few know blood can be a priceless treasure in and of itself.
"Alchemy has long used the lifeblood of monstrosities as arcane fuel, and of all the legendary beasts, the blood of the gorgon holds the most secrets. Few know the blood's darkest lore – its ability to draw out the monster within every soul. Those who drink gorgon's blood are forever changed, and the darkest horrors of their mind unleashed.
"The heroes hunt a deadly murderer who stalks the streets of the Free City of Zobeck after nightfall, and cross blades with a guild of monsters who rule the city from below. Lucky heroes might risk no more than their lives. Unlucky heroes must wager their souls in a game where monsters and men dance close enough to share their blood... and their fate."
More when I get hold of a copy!
Book Details:
Authors: Nicolas Logue and Wolfgang Baur
Publishers' Reference: Unknown
ISBN: n/a
PDF, 75 pages
Date: July 2008
Buy this product:
Unavailable - and having been released as a PDF it rarely turns up anywhere for resale.
Product page last updated: 10 October 2015