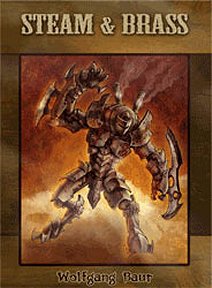 Supposedly an excellent adventure collection, the intransigence of a very few of the patrons has deprived the gaming world of this work.
Publisher's blurb: "This was the very first Open Design, an urban mystery with some intense combats, a fully-detailed Arcane Collegium, in a steampunk city, and new monsters and the first glimpse of the City-State of Zobeck. Steam & Brass was designed using pre-scaled encounters, and is thus usable for parties at 6th, 8th, and 12th level.
"Its three interwoven plot lines make for higher replay value; three villains can all be the big boss, or they can be the NPCs who hire the party. With a contract with the devil, a new school of magic, and a clockpunk sensibility, it's not your average adventure."
More when I get hold of a copy!
Book Details:
Authors: Wolfgang Baur
Publishers' Reference: Unknown
ISBN: n/a
PDF, pages unknown
Date: 2009
Buy this product:
You'll be lucky - as it was a PDF release it doesn't even show up on the likes of Ebay!
Product page last updated: 10 October 2015