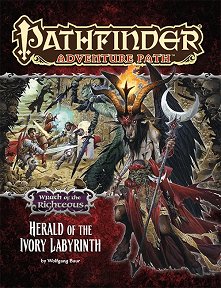 Part 5 of the Wrath of the Righteous adventure path, there's a 15th-level adventure, loads of demon lore and even more monsters.
Publisher's blurb: "The cult of Baphomet has been delivered a critical blow, yet the demon lord remains undeterred. Now he's taken hostage the herald of Iomedae, goddess of justice and valor. The heroes of the Fifth Crusade must attempt their most dangerous and audacious mission yet - travel to Baphomet's Abyssal realm known as the Ivory Labyrinth, navigate its trackless mazes, and find the ancient prison in which he's keeping the abducted herald. Can the heroes rescue the goddess's messenger, or are they already too late? And was the abduction merely a ruse by the demon lord to lure the heroes into his clutches?"
More when I get hold of a copy!
Book Details:
Authors: Wolfgang Baur, Amanda Hamon, James Jacobs, Ron Lundeen, Jason Nelson, Sean K Reynolds, and Robin D. Laws
Publishers' Reference: PZO9077
ISBN: 978-1-60125-586-0
Paperback, pages
Date: January 2014
Buy this product:
Product page last updated: 27 September 2015