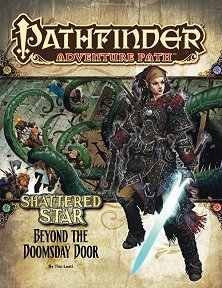 Part 4 of the Shattered Star Adventure Path, this book contains a 10th-level adventure, notes on the Abyssal monstrosities known as qlippoth, information about the faith of Groetus, God of the End Times and the madness of his tortured clergy, more monsters and the dangers of being a junkie in Riddleport (well, its perilous anywhere but...).
Publisher's blurb: "The hunt for the seven shards of the Shattered Star leads the heroes back to the western coast of Varisia, to the multifaith monastery known as Windsong Abbey. The next shard appears to be hidden somewhere within the dungeons below the abbey. But when the PCs arrive, they find the monastery in ruins and held by savage giants and twisted fey! An ancient terror has returned home, and now dwells within the levels beneath the monastery - a terror who hopes to open the dread doomsday door within!"
More when I get hold of a copy!
Book Details:
Authors: Tito Leati, James Jacobs, Sean K Reynolds, F. Wesley Schneider, Jerome Virnich, and Bill Ward
Publishers' Reference: PZO9064
ISBN: 978-1-60125-474-0
Paperback, 96 pages
Date: November 2012
Buy this product:
Product page last updated: 19 September 2015