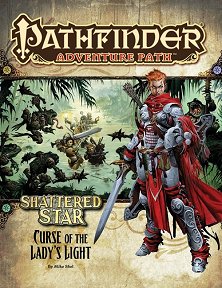 Part 2 of the Shattered Star adventure path, there's a 5th-level adventure, the secret ways, peerless techniques, and ancient traditions of Torag, stern god of the forge, protection, and strategy, the horrid truth about the Grey Maidens (first encountered in the Curse of the Crimson Throne AP), notes on alchemy and housebreaking and of course, new monsters.
Publisher's blurb: "Varisia's newest heroes have stumbled across a powerful relic from the ancient empire of Thassilon - yet the artifact has been sundered into seven fragments. The third of these fragments lies in the swampy Mushfens south of the city of Magnimar, hidden within an ancient, towering lighthouse known as the Lady's Light. With squabbling boggards, troglodytes, and other swamp monsters dwelling around the ruins, approaching the Light will require either stealth or bravado. But the threats posed by slimy and scaly humanoids pale in comparison to the exiled Gray Maidens who have claimed the interior of the Light as their new headquarters, or to the sinister curse that afflicts the powerful, ancient caretaker of the ruin."
More when I get hold of a copy!
Book Details:
Authors: Mike Shel, Levi Miles, Sean K Reynolds, F. Wesley Schneider, and Bill Ward
Publishers' Reference: PZO9062
ISBN: 978-1-60125-459-7
Paperback, 96 pages
Date: September 2012
Buy this product:
Product page last updated: 19 September 2015