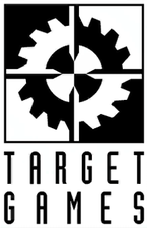 Originally called Äventyrsspel, Target Games was a Swedish publisher active from 1980 until 1999. They produced games in both Swedish and English, including both original games and Swedish translations of games from other publishers. Their first game was Drakar och Demoner (Dragons and Demons) in 1982, based on Basic Role Playing and early RuneQuest from Chaosium although the rules developed into a unique ruleset over time, which went through five editions before being taken on by Paradox Entertainment who licensed it to Riotminds, another Swedish company. I don't think there's been an English version.
Mutant, also in Swedish, came out in 1984 and after a couple of revisions appeared in English as Mutant Chronicles. There was an associated miniatures skirmish game in the same setting called Warzone, also available in English.
The contemporary horror game Kult was originally published in Swedish in 1991, and soon found its way into English courtesy of Metropolis Ltd. and later Paradox Entertainment.
Other Swedish-language games included Sagan om Ringen (1986, a translation of Middle-earth Role Playing) and Stjärnornas Krig (1988, a translation of the West End Games Star Wars role-playing game).
Company Section last updated: 5 September 2015