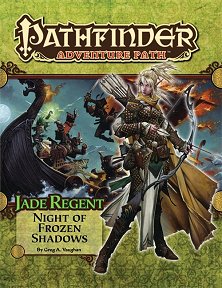 Part 2 of the Jade Regent AP, there's a 4th-level adventure, notes on the town of Kalsgard and the deity Shelyn and some new monsters to enjoy.
Publisher's blurb: "A faceless menace stalks the viking empire. For decades a sinister band of assassins has watched and waited, hiding among the rugged people of Kalsgard, capital of the fierce Lands of the Linnorm Kings. In all this time their mysterious prey has lain hidden away, but no longer. With their quarry revealed, death stalks the streets of a city of hardy warriors and viking raiders. Having traveled from distant lands to this notorious city, the heroes prepare to take their first steps on an expedition into some of the world's most ferocious wilderness. Yet nothing is ever easy in dangerous Kalsgard, and soon they find themselves targeted by mysterious assassins. Can the heroes defend themselves and their friends from the blades of supernatural killers? Or will they meet their ends amid the ice and snow?"
More when I get hold of a copy!
Book Details:
Authors: Greg A. Vaughan, Jesse Benner, Matthew Goodall, Sean K Reynolds, and Dave Gross
Publishers' Reference: PZO9050
ISBN: 978-1-60125-366-8
Paperback, 96 pages
Date: September 2011
Buy this product:
Product page last updated: 30 August 2015