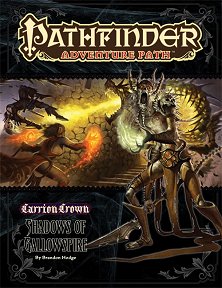 Part 6 of the Carrion Crown AP, there's a 13th-level adventure, ideas for continuing the campaign beyond the AP, a discussion of liches and more new monsters.
Publisher's blurb: "A mad plot to unleash the greatest necromancer the world has ever known draws to its sinister end. As the murderous cultists of the Whispering Way retreat to their profane sanctuary, the powers of death align to resurrect their fallen champion. Bold adventurers pursue these villains, but can their bravery survive the haunted wasteland of Virlych, the accursed cathedral of Renchurch, and ultimately the towering crypt of Gallowspire? And will their boldness be enough to stop the Whispering Tyrant, the infamous lich-king locked away beneath Ustalav's deadliest ruin, from being reborn upon a defenseless world? The heroes must test their courage against the servants of death itself in this, the climactic final chapter of the Carrion Crown Adventure Path."
More when I get hold of a copy!
Book Details:
Authors: Brandon Hodge, Adam Daigle, Crystal Frasier, and F. Wesley Schneider
Publishers' Reference: PZO9048
ISBN: 978-1-60125-313-2
Paperback, 96 pages
Date: July 2011
Buy this product:
Product page last updated: 30 August 2015