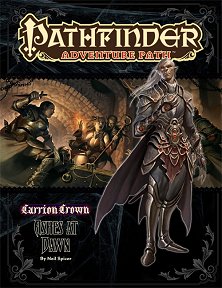 Part 5 of the Carrion Crown AP, this 11th-level adventure also has a gazetteer for Caliphas, notes on the Church of Urgathoa, new monsters and more.
Publisher's blurb: "A killer stalks the streets of Caliphas, a murderer whose victims are already dead. Something is preying upon the ancient vampire clans of Ustalav's capital, a mysterious foe who threatens the centuries-old truce tenuously held by generations of both the living and the undead. Into this madness enter the heroes, closing in on the death cultists of the Whispering Way. What role do the deadly necromancers have in the undead murders plaguing Caliphas? What secret grudge exists between the cult and the rulers of the night? And will the heroes be able to save the capital without sacrificing their very souls?"
More when I get hold of a copy!
Book Details:
Authors: Neil Spicer, Crystal Frasier, Patrick Renie, Sean K Reynolds, and F. Wesley Schneider
Publishers' Reference: PZO9047
ISBN: 978-1-60125-312-5
Paperback, 96 pages
Date: July 2011
Buy this product:
Product page last updated: 30 August 2015