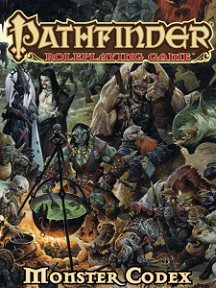 Not every monster of a given species is the same...
Publisher's blurb: "The fiercest surprises often come from the most familiar foes! Just as no single class description can define every fighter, rogue, or wizard, no single creature entry can truly cover every vicious champion, unholy priest, or savage sorcerer in a band of organized and intelligent monsters.
"With Pathfinder Roleplaying Game: Monster Codex, fleshed-out hordes are at your fingertips! This volume presents a trove of entries for 20 classic monster races, giving you new ways to use your favorite monsters in a variety of encounters and challenge levels."
More when I get hold of a copy!
Book Details:
Authors: Dennis Baker, Jesse Benner, Logan Bonner, Jason Bulmahn, Ross Byers, John Compton, Robert N. Emerson, Jonathan H. Keith, Dale C. McCoy, Jr., Mark Moreland, Tom Phillips, Stephen Radney-MacFarland, Sean K Reynolds, Thomas M. Reid, Patrick Renie, Mark Seifter, Tork Shaw, Neil Spicer, Owen K.C. Stephens, and Russ Taylor
Publishers' Reference: PZO1130
ISBN: 978-1-60125-686-7
Hardback, 256 pages
Date: October 2014
Buy this product:
Product page last updated: 29 August 2015