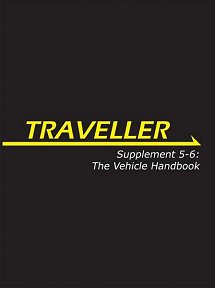 Designed to replace Supplement 5: Civilian Vehicles and Supplement 6: Military Vehicles, this work presents a far slicker and more streamlined vehicle design system that can create virtually any planetside vehicle you care to name swiftly and efficiently. The idea is that it should be used for those vehicles that characters can interact with - you can drive a car or a truck, ride a bicycle, and so on - but the more massive ones like air craft carriers, cruise liners and supertankers ought to be regarded as scenery rather than designed to this level of detail. Perhaps not true to the 'gearhead' approach so beloved of Traveller players, but it is a viable option: design to an appropriate level of detail.
The first chapter is entitled Crash Course in Vehicle Design. This provides an overview of the vehicle design system. You start by determining three things: the Tech Level of the proposed vehicle, its chassis type and the number of spaces. The chassis type tells you what sort of vehicle it is, and the number of spaces determines how big it is - each 'space' being sufficient to transport a regular-sized human (or equivalent from an alien race, of course). After that, it is merely a case of applying modifications to describe the precise vehicle you are after. The modifications can, of course, include armour and weapons if you intend it to be a military vehicle.
A template is provided for recording your design, and this is followed by a whole bunch of rules to cover every aspect imaginable - animal-powered vehicles, sailboats, aircraft and more. Each vehicle has a 'shipping size' which is the notional amount of room they need when being transported on a starship. There's an abstraction for calculating the mass of a vehicle for those occasions when it might become important, as it isn't otherwise factored in to the design system.
Next comes more detailed information on each chassis type available, starting with bicycle, rickshaw, wagon and cart which are lumped together as animal/human powered wheeled vehicles. Then you get non-powered boats and ships (rowing boats and sailing ships), balloons, then light ground vehicles (motorbikes, cars and pick-up trucks) and then heavy ground vehicles (trucks and tanks, stuff like that). Trains have their own category, but other ground vehicles can be modified to travel on rails as well. Next are hovercraft, grav vehicles and helicopters, each subdivided into heavy and light versions, and so it goes on... airships, light and heavy aircraft, light and heavy jets, light and heavy aerodynes, and then on to walkers, ships and submersibles.
The next section looks at Adding Armour and Weapons to your vehicle. Everything has a base armour rating (a function of tech level and chassis) but depending on the use to which you want to put it, you might want more. Traveller players being Traveller players, they are also likely to want weapons so there's plenty of detail about different types, how they are mounted and auxillary things like fire control systems... This is followed by a neat section of Universal Modifications, which abstracts out things like wanting an exceptionally fast vehicle for its type and lets you add that without needing to provide a wealth of detail about how. Or you might want an autopilot, or an open top... the possibilities are quite vast. Communications, accommodation and other modifications fit in here as well.
Next comes Battle Dress. If you want to have a massive suit of powered armour, this is where you come to design it in all its glory. There are options for weapons and other systems, defence mechanisms and more.
This is followed by some Vehicle Design Examples to show you the system in action. These explain how they have been derived as well as presenting you with the finished article and, of course, its statistics. There's a good selection here, including old favourites like the air/raft, ranging from low to high tech levels and modes of operation. If you're not inclined to get to grips with the design system, you'll probably find something to suit your needs here. They are roughly grouped by use (civilian or military) and type (aircraft, ground vehicles, etc.), and this is the largest section of the book.
Finally, there are specialised listings of vehicles used by the various Third Imperium races and in specific locations or settings available within Mongoose Traveller. So if you play Judge Dredd, you can have a Lawmaster (if you can get it to work) created using this vehicle design system, along with a range of other iconic vehicles from Mega-City One; likewise there are vehicles specifically designed for Strontium Dog and Hammer's Slammers.
Overall it is an elegant vehicle design system and filled with a wealth of examples this book should prove a useful if not essential resource for all Traveller games.
Return to Supplement 5-6: The Vehicle Handbook page.
Reviewed: 7 July 2015