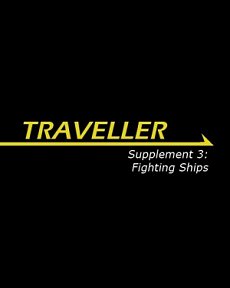 Following on from Supplement 2: Traders and Gunboats this book concentrates on warships, the large military vessels that keep the black safe for all citizens of the Imperium... or which might mix it up when pocket empires clash. Just how much use you'll have for them depends on the nature of your game, they may just be 'ships that pass in the night' as background to those for whom space travel is just the means to get to the next adventure, home to serving military, a time to reminisce for veterans, or something to be worried about for parties up to no good...
All ships have been designed using the rules in the Traveller core rulebook and Book 2: High Guard, some will be familiar, reworkings of old favourites whilst others are quite new. They are organised into five sections, making it easy to find the precise ship you want. The sections are Small Craft (basically carrier-borne fighters), Small Starships, Cruisers, Carriers, and Battleships.
Each vessel comes with a brief description outlining its role, full statistics, deckplans and quite often an artist's rendering as well. Even the largest ships show how necessary it is for military spacefarers to be able to do with very little space, and the smaller ones make present-day submarines look roomy! Anyone playing an ex-Navy character should note... and compared to the Marine barracks on those ships that have them, even a crew stateroom looks spacious.
The range of different vessels makes it easy to create your own battlegroups, and - like many aspects of the Traveller system - it would be easy to while away your time setting up navies, naming ships and devising their histories. If your mind is filled with images of movie starships, some of these come quite close - notably the Gionetti-class light cruiser, which looks rather like the Star Wars Imperial Star Destroyer. It might be fun to use the rules to build some of your favourite vessels from other spacefaring tales, too, using these ships as inspiration.
Even if your party does not have serving or retired military personnel amongst them, there are plenty of ways in which they might have occasion to interact with a warship - perhaps they are invited to a cocktail party with the Captain, or are evacuated from a world in the throes of civil war or natural disaster... just flipping through can spawn myriad ideas. Overall, this is another book that helps round out the background of your galaxy, making it come to life with more detail, ships that may only be seen in passing but which are every bit as 'real' as the one the characters are in.
Return to Supplement 3: Fighting Ships page.
Reviewed: 25 June 2015