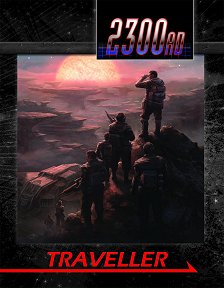 Set earlier than mainstream Traveller, the 2300AD setting presents an interesting vision of how things might develop, with the different races of Earth remaining distinct as they head for the stars.
Publisher's blurb: "2300AD is set in a hard science world, as mankind struggles to gain and maintain footholds on over two dozen alien worlds. Nearly 300 years after a near-apocalypse, mankind has taken to the stars, only to find others already there, waiting. While these aliens are a constant worry, or even threat, the struggle for life on the frontier grips most colonists, while the worlds and nations of the Core turn ever inward, lost in digital dreams and augmented realities.
"2300AD features a richly-developed hard SF universe, with ships spinning against the night, and only the faster-than-light drive, the stutterwarp, a true violation of physics as we know it. Airships, helicopters and hovercraft are common sights on the worlds of the frontier, while spaceplanes and rockets carry explorers and traders to orbit, and from there the great starships carry them across the stars.
"2300AD features expanded character generation rules, nearly three dozen world maps, rules for cybernetics, genetic-engineering, new aliens, new equipment, weapons, armour, vehicles and spacecraft."
Book Details:
Author: Colin Dunn
Publishers' Reference: MGP20000 (original)/MGP20005 (revised)
ISBN: 978-1-908460-09-7
Hardback, 310 pages
Date: March 2012 (original)/March 2014 (revised)
Buy this product:
Product page last updated: 16 March 2016