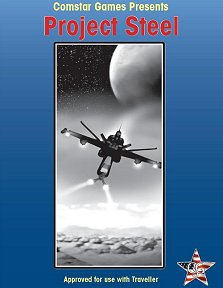 Complex and violent goings-on galore.
Publisher's blurb: "Project Steel: A controversial initiative to open up a continent of the world Steel for Imperial development. Fraught with political compromises and operating on a shoestring budget, the project offers a chance to reduce tensions between the Imperium and the Sword Worlds, perhaps averting future conflict.
"Call of the Wild: Arriving on Steel to join the project, a freelance exploration team heads out into the wilderness on what appears to be a simple surveying mission. What they find is a complex situation requiring good judgement in a desperate situation. Their decision will have consequences for the future of the project and everyone on Steel.
"Range War: As civilization begins to flower on Steel, the settlers face a new threat. Brutal raiders are advancing on the half-built starport, apparently determined to destroy the fledgling colony. As the Imperials dig in for a desperate last stand it falls to the travellers to buy enough time for a miracle born of honor and mercy.
"Mouth of Hell: As the Steel Project recovers from the raider attack, a team of adventurers must cross the mountains to rescue a stranded survey team. This simple task leads to the discovery of Steelís terrible secret. In a desert canyon far from aid or assistance, the travellers must battle for their own survival and the salvation of everyone on Steel."
More when I get hold of a copy!
Book Details:
Author: M J Dougherty
Publishers' Reference: MGP6134
ISBN: 978-1-906508-40-1
Paperback, 98 pages
Date: June 2009
Buy this product:
Product page last updated: 13 June 2015