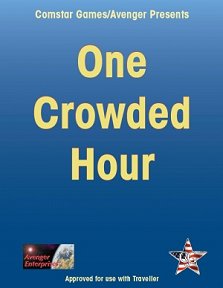 Disaster in the black aboard a luxury liner...
Publisher's blurb: "One Crowded Hour is a Traveller adventure designed to be dropped into any campaign in any era, or used as a one-off, perhaps as a convention or tournament adventure.
"The adventure details the liner Duchess Selene, her crew and passengers. A varied group, not all of them get along with one another. But as they sit down to dinner together on the last night of a routine voyage, the atmosphere is one of genteel civility. Only the captain and some of his officers have any reason to suspect that anything may have gone awry.
"Disaster strikes suddenly, and without warning the travellers are plunged into the midst of chaos and terror. At first deprived of any information, they must deal with panicking passengers and stewards who seem to think that if everyone just stays calm and follows emergency drill everything will be fine. It soon emerges that the travellers are in mortal danger. Duchess Selene has suffered a mortal blow and is racing toward destruction. The adventurers have one hour to save the ship, themselves, and as many of the passengers as they can. One crowded hour of glorious life...
"One Crowded Hour is a fast-paced adventure which cannot be solved by gunplay and violence. Instead the travellers must make tough decisions about which problems to tackle, perhaps saving some and leaving others to their fate. They will have to deal with uncooperative crewmembers, conflicting ideas about what to do and passengers who are on the brink of rebellion. The travellers will have to brave mortal danger to save the ship – if it can be saved at all – and along the way perhaps try to learn why the disaster happened in the first place."
More when I get hold of a copy!
Book Details:
Author: M J Dougherty
Publishers' Reference: MPDF0008
ISBN: n/a
PDF, 46 pages
Date: December 2008
Buy this product:
Product page last updated: 13 June 2015