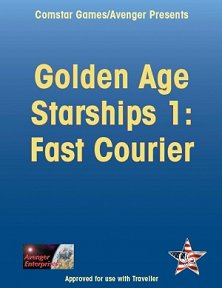 Nifty little ship ideally suited for party use.
Publisher's blurb: "Fast Courier is a complete supplement for the Traveller role-playing game. Full stats are included for Mongoose Traveller, but this rules-light supplement is suitable for use with any version of Traveller, or indeed with other rules sets. This supplement contains several adventure seeds set in the Spinward Marches, which could be used anywhere in the Traveller Universe.
"This supplement details the 200-ton Fast Courier, a Jump-3 ship originally designed for the Imperial Interstellar Scout Service but now used throughout the Imperium. Some are in private hands, used for movement of high priority and secure cargos and on subsidized routes.
"This is an ideal ship for characters wanting a vessel a little different from the norm. Full Traveller statistics are provided as well as deckplans, a registry of Fast Couriers in the Spinward Marches, and 7 adventure seeds for merchant campaigns set in the Marches using the Fast Courier. The vessel is designed for player use as well as a ship that players may encounter. It is usually seen carrying mail or priority, secure and hazardous cargos. In addition, details are given on the exploration version of the Fast Courier used by the Imperial Scout Service."
More when I get hold of a copy!
Book Details:
Author: Michael Taylor
Publishers' Reference: MPDF0003
ISBN: n/a
PDF, 22 pages
Date: December 2008
Buy this product:
Product page last updated: 7 June 2015