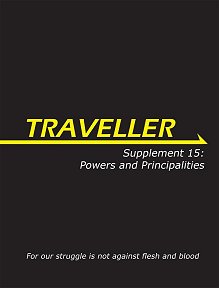 Put more reality into your alternate reality.
Publisher's blurb: "This book is, in many ways, a continuation of Supplement 13: Starport Encounters. Whereas that book provided a ready toolkit for referees to flesh out starports with ships, crews and passengers, Supplement 15: Powers and Principalities does the same with the forces and organisations that control the planets players land upon – the corporations, governments and religions.
"Not all participating democracies will be identical. Each will have its own eccentricities and nuances. The same applies to the corporations players will take jobs for or purchase from. Not all agricultural companies are run the same way, after all.
"By using the provided corporations, governments and religions in this book, referees will be able to populate their universes with the minimum of effort, ensuring now that not only every starport is different, but the world beyond its gates remains vivid and alive in the minds of the players.
"The goal is to make every planet in your campaign unique and interesting, and Supplement 15: Powers and Principalities will do just that with no extra work on the part of the referee. To this end, this book covers three key areas where referees can always use a little help."
Book Details:
Author: Andy Lilly
Publishers' Reference: MGP3888
ISBN: 978-1-908460-26-4
Paperback, 158 pages
Date: January 2014
Buy this product:
Product page last updated: 24 May 2015