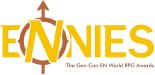 Here is a list of the product entered for the 2015 ENnies Awards.
0one Games
Wild West – Virtual Boxed Set
3 Toadstools Publishing
The Lizardmen of Illzathatch
AAW GAMES
For Rent, Lease or Conquest
Twin Crossings
Ad Infinitum Adventures
Icons Superpowered Roleplaying: The Assembled Edition
Adventures in Filbar
FC5: Leptis Magna
FC: Yellowbeard's Vein
FT: Barony of Civille
FQ1: Ruins of Heliopolis
FV1: Jeopardy Caverns
Amora Game
Liber Influxus Communis: The Book of Collective Influence
Agate Editions
Adeliane Miniature
Aodann-Bas Miniature
The Black Rose
Daernic Miniature
Monastery of Tuath
Joris Miniature
Uruan Miniature
Alluria Publishing
Cerulean Seas Campaign Setting: Celadon Shores
Atomic Overmind Press
One Sheet: Hide & Seek
One Sheet: Race for the Jade Scroll
One Sheet: Song of the Siren
Barrel Rider Games
Battlefield Press
Eldritch Skies Savage Worlds Edition
Gaslight Victorian Fantasy Savage Worlds Edition Second Edition
Pulp Fantastic
Warren C. Norwood's Double Spiral War
Bedrock Games
Beneath the Banshee Tree
Sertorius
BlackWyrm Games
Algernon Files 3.0 Vol. 1
At the Hands of an Angry God
Erasable Castle Map
Erasable Pirate Ship Map
Widening Gyre
Blogs
Campaign Coins
Catalyst Game Labs
Shadows in Focus: Sioux Nation
Shadowrun Missions: Liberation
Valiant Universe RPG
Valiant Universe RPG Comic Book Play Guide
Valiant Universe RPG Digital Initiative
Chaosium
Blood Tide: Black Sails and Dark Rituals
Cold Harvest: Roleplaying During the Great Purges of Stalin's Russia
Horror on the Orient Express
Madness on the Orient Express
Magic World Quick Start Rules
Christopher West's Maps of Mastery
Distant Outposts Deluxe Poster Map Set
Crafty Games
Crossroads Games
Eldritch Role Playing System (Revised)
Cubicle 7 Entertainment Ltd.
Doctor Who: Adventures in Time and Space: Arrowdown
Doctor Who: Adventures in Time and Space: Limited Edition Anniversary Rulebook
Doctor Who: The Card Game 2nd Edition
Doctor Who: The Fourth Doctor Sourcebook
The One Ring Roleplaying Game
The One Ring: The Darkening of Mirkwood
The One Ring: Rivendell
Rocket Age: The Asteroid Belt
World War Cthulhu: Europe Ablaze
d20Monkey
The Monkeynomicon: Monsters of Karthun
DiasExMachina
Amethyst Apotheosis
Amethyst Destiny
Dilly Green Bean Games
G-Core PRIME Superhero RPG System
Don Mappin
Draken Games
Argor Fantasy Role Playing Game
How to Create Great Fantasy Maps (Even if You Can't Draw)
DramaScape
Arabian Fortress
Trains: Modern
Village on the Lake
Eden Studios
Adventure Maximus RPG Starter Set
Embers Design Studios
Engine Publishing
Unframed: The Art of Improvisation for Game Masters
Evil Beagle Games
Shaintar Guidebook: Magic & Cosmology (Vol I)
Evil Hat Productions
The Aether Sea
Atomic Robo: The Roleplaying Game
The Deck of Fate
Designers & Dragons: A History of the Roleplaying Game Industry: The 70s
Designers & Dragons: A History of the Roleplaying Game Industry: The 80s
Designers & Dragons: A History of the Roleplaying Game Industry: The 90s
Designers & Dragons: A History of the Roleplaying Game Industry: The 00s
Eagle Eyes
Monster of the Week
Psychedemia
Romance in the Air
Save Game
The Secret of Cats
Spirit of the Century Presents: Dinocalypse Forever
Spirit of the Century Presents: Stone's Throe
Zeppelin Attack!
Zeppelin Attack!: Doomsday Weapons
Exploding Rogue Studios
Iron Edda: War of Metal and Bone
Fabled Environments
Blueprint for Imagination: Canned Food
Blueprint for Imagination: Flawed Dupes
Cake Walk
Fabled Environments Presents: Operation Lightning
Killer Chops
Throwdown at the North Pole
Fainting Goat Games
Extreme Earth: A Dystopian Superhero Setting
Fear the Boot
Filigree Forge
Barbarians of Lemuria: Mythic Edition
First Ones Entertainment
94-LC-01 Dousing Fire With Blood
Four-in-Hand Games
Steamscapes: Gunslinger's Guide
Four Dollar Dungeons
Game Soapbox Productions, LLC
Bringing Theater to the Mind: A Guide to Using Theatrical Elements in Role-Playing
Games and Gears
Gen Con Adventurer's Tavern: Painted
Gen Con Kolinsky Sable Brush
GeekPunk
Hero Happy Hour: Barroom Buddies & Bad Guys
Genesis of Legend Publishing
GM Games
Goathead Software
DM Minion for 5th Edition
Green Ronin Publishing
Advanced Bestiary for the Pathfinder RPG
Atlas of Earth-Prime: Mexico for Mutants & Masterminds
Chronicle of Sorcery
Dragon Age RPG Core Rulebook
Freeport: The City of Adventure for the Pathfinder RPG
Gun Metal Games
Interface Zero 2.0: Full Metal Cyberpunk
Half Meme Press
Hero Games
Hunters Books
Imaginary Empire
EPOCH: The Experiment Continues
Epoch: White Wedding
Wicked Lies & Alibis
Inkwell Ideas
DungeonMorph Dice: Explorer Set
NPC Portraits Deck: Fantasy
Interjection Games
The Onmyōji: A Japanese Occult Diviner
Jon Brazer Enterprises
Book of Heroic Races Compendium
Deadly Delves: Reign of Ruin (Pathfinder RPG)
Just Insert Imagination
Kabuki Kaiser
Kobold Press
Advanced Races 12: Derro for Pathfinder Roleplaying Game
Dark Deeds in Freeport
Deep Magic: 13th Age Compatible Edition
Kobold Guide to Combat
Peculiar Alchemist of Alpentor
Lamentations of the Flame Princess
Death Frost Doom
The Doom-Cave of the Crystal-Headed Children
The Idea from Space
No Salvation for Witches
A Red & Pleasant Land
Thulian Echoes
Tower of the Stargazer
Legendary Games
Islands of Plunder: Raid on the Emperor's Hand
Metal Heroes: Pregenerated Characters
Mythic Hero's Handbook
Mythic Monster Manual
Mythic Spell Compendium
Path of Villains
Splintered Godhood
Ultimate War
Libraries Unlimited
Dragons in the Stacks: A Teen Librarian's Guide to Tabletop Role-Playing
Lone Wanderer Entertainment
The Goblins of Kaelnor Forest
Lone Wolf Development
Luke Green
Divine Blood RPG Supplement
Mad Norwegian Press
Chicks Dig Gaming: A Celebration of All Things Gaming by the Women Who Love It
Magpie Games
The Fate Codex: Volume 1, Issue 7
Margaret Weis Productions
Cortex Plus Hacker's Guide
Dragon Brigade: The Affair of the Orb Adventure
Mayhem in Paper
Cog Cruiser: Sentry Tripod
Mechanical Muse
Michael Terlisner
Modiphius Entertainment Ltd
MUTANT: Year Zero - The Roleplaying Game
Monte Cook Games, LLC
The Dark Spiral
Ninth World Guidebook
Numenera Character Options
The Strange
The Strange Bestiary
Technology Compendium: Sir Arthur's Guide to the Numenera
Weird Discoveries: Ten Instant Adventures for Numenera
Moon Design Publications
Argan Argar Atlas
The Guide to Glorantha
Mystical Throne Entertainment
Entropic Gaming System Core Rulebook
Entropic Gaming System: Quick Start Guide
Judgment Day (Savage Worlds) 2nd Edition
Mercenary Breed: Mercenary's Handbook (Legend)
Mercenary Breed: Xenopedia (Legend)
Mythos (EGS) Core Setting Guide
Northwinter Press
Mystical: Kingdom of Monsters (Pathfinder)
Obatron Productions
Savage Insider, V2I1: Rebirth's Reinvention
Okumarts Games
Darkfast Dungeons
Panicked Civilians
Spot of Bother Set Two: Top Secret Headquarters
Olde House Rules
Braunstein!
The Cellars of Castle Keep
Pits & Perils III: Infernal Realms
Retrospace
The Ruined Abbey of Saint Tabitha
Paizo Fans United
Wayfinder #11, Cheliax: Infernal Empire
Wayfinder #12, Osirion: Ancient Sands
Paizo Inc.
Pathfinder Adventure Card Game: Skull & Shackles
Pathfinder Adventure Path #84: Pyramid of the Sky Pharaoh
Pathfinder Adventure Path #91: Battle of Bloodmarch Hill
Pathfinder Campaign Setting: Technology Guide
Pathfinder Cards: Deluxe Harrow Deck
Pathfinder Module: Emerald Spire Superdungeon
Pathfinder Module: Risen from the Sands
Pathfinder Pawns: Inner Sea Pawn Box
Pathfinder RPG: Monster Codex
Pathfinder RPG: Pathfinder Unchained
Pathfinder RPG: Strategy Guide
paNik productions
Pantheon Press
Paradigm Concepts Publishing
Legends of Arcanis: Pride Goeth Before a Fall
Legends of Arcanis: To Die Alone
Legends of Arcanis OP: The Price of Honor
Legends of Arcanis OP: Vexing Priests
Legends of Arcanis OP: Words of the Seer
Pelgrane Press
13 True Ways
13th Age Bestiary
13th Age: The Book of Loot
13th Age: Eyes of the Stone Thief
13th Age: Shadows of Eldoran
The 13th Age Soundtrack
13th Age: The Archmage's Orrery
Book of Ants
DramaSystem: Series Pitch of the Month
Great War Trail of Cthulhu: Dulce et Decorum Est
Jack Vance's Gaean Reach Roleplaying Game
Ken Writes About Stuff Volume 2
The Seventh Circle
Soldiers of Pen & Ink
Trail of Cthulhu: Dreamhounds of Paris
Trail of Cthulhu: Mythos Expeditions
Pinnacle Entertainment Group
Deadlands Hell on Earth Companion
East Texas University
East Texas University GM Screen + Class Ring Adventure
East Texas University: Degrees of Horror
East Texas University: Redneckromancer
East Texas University Combat Maps: Campus Housing/Pinebox Businesses
East Texas University Creature Feature: La Bruja
The Last Parsec: Pranac Pursuit
The Last Parsec: Untimely Discovery
The Last Parsec Wendigo Tales: A Clear Understanding of Honor
The Last Parsec Wendigo Tales: The Searchers
Savage Worlds Combat Status Tokens
Savage Worlds Science Fiction Companion
Savage Worlds Super Powers Companion (2nd Edition)
Weird Wars II: Italian Forces
Pirate Press LLC
Podcasts
Popcorn Press
D6xD6 RPG Expanded Edition
Posthuman Studios
Eclipse Phase: Firewall
Morph Recognition Guide
Posthuman Studios & Snow Dog Labs
Eclipse Phase: Singularity Character Generator
Privateer Press
Iron Kingdoms Full Metal Fantasy Monsternomicon
Iron Kingdoms Unleashed Core Rules Hardcover
Iron Kingdoms Unleashed Roleplaying Game Adventure Kit
No Quarter #57 Corvis Codex: Scars of the Scourge
Q-Workshop
Black-green Call of Cthulhu 7th Edition RPG Dice Set
Metal-Black Tech RPG Dice Set
Rarr! I'm A Monster Publishing
Librarians of Doom
QADD: Solotastic!
QADD: Quick And Dirty Dungeons
Rite Publishing
101 Not So Random Encounters Forest Kingdom
Adventure Quarterly #6
Gossamer Worlds: Nexopolis
Gossamer Worlds: Stratospheria
In the Company of Dragons
Lords of Gossamer & Shadow Icon Deck
Lost In Dream
Lucien's Guide: The Black Files
The Secrets of the Masquerade Reveler
Rogue Games, Inc.
Colonial Gothic: The Player's Companion
Colonial Gothic: Roanoke Island
The Landlord's Daughter
Shadow, Sword & Spell: Gamemaster
Shadow, Sword & Spell: Player
Rogue Genius Games
The Genius Guide to the Talented Ranger
Monster Menagerie: Horrors of the Aboleth
Roleplaying Tips Publishing
Campaign Seeds: From Zero to Killer Campaign Concept
Saga RPG
Darkwood Adventure Arc Part I: The Deft and the Deadly
Darkwood Adventure Arc Part II: The Tormented and the Twisted
Sasquatch Game Studio LLC
Primeval Thule Campaign Setting
Savage Mojo, Ltd
Clockwork Dreams
Palace of the Lich Queen (Pathfinder Edition)
Set Rising
Saving Throw
Sébastien Morellet
Sequestered Industries
Astulae
Astulae: Necrogenic
One Hundred Alternate Histories
Silent Spirits Game Studio
Redemption: A Game of Tactics and Consequences
Silver Games LLC
PonyFinder: Griffons Of Everglow
Simian Circle Games
Far Away Land RPG: Tome of Awesome
Skirmisher Publishing LLC
Cards & Quests: An Innovative Fantasy Role-Playing Game
SmiteWorks USA LLC
Fantasy Grounds: Lost Mine of Phandelver
Sneak Attack Press
Abstract Dungeon
Broken Earth: The Haunted Straits
Studio Cypher
Sword's Edge Publishing
Nefertiti Overdrive Quickstart Rules
Syrinscape
Syrinscape's Rise of the Runelords Mega SoundPack
The Illuminerdy
5e Monsters By Challenge Rating Index
Dog Day Apocalypse
Third Eye Games
AMP: Year One
Angels Among Us
Harder They Fall
Infestation, An RPG of Bugs and Heroes
Return of Dragons
Thunderhead Gaming
Netherstorm Core Rulebook
UH Publishing, Inc.
Aragunidia: The Maiden Voyage Bug Hunt
Bloodtooth Paradoxal: It's a Trap
Universal Horizons Bloodtooth Vocations
Universal Horizons Player's Handbook
Vigilance Press
Tianxia: Blood, Silk & Jade
Weapons Grade Funk
Websites
Weird 8
Wizards of the Coast
D&D Dungeon Master's Screen
DDEX1-1 Defiance in Phlan
DDEX1-3 Shadows Over the Moonsea
DDEX1-9 Outlaws of the Iron Route
Hoard of the Dragon Queen
Princes of the Apocalypse
Rise of Tiamat
WizKids
D&D Icons of the Realms: Elemental Evil Boosters
Pathfinder Battles: Iconic Heroes Set 1
Temple of Elemental Evil
WrightWerx
Via Ludibunda
Fantasy Pirate Goblin 28mm Miniature
Fantasy Pirate Goblin Captain 28mm Miniature
Fantasy Pirate Goblin Lieutnant 28mm Miniature
Page last updated: 16 May 2015