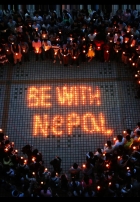 In response to a massive earthquake in Nepal in April 2015, Kabuki Kaiser put together a charity bundle in aid of CARE Nepal, who will receive the profits of sales, less 5% to the distributor. Thank you!
The bundle is a collection of Asian-themed product, consisting of:-
Arrows Of Indra
Crypts, Tombs & Catacombs Cut-Up Sections
Mad Monks of Kwantoom
Qelong
Red Tide: Campaign Sourcebook and Sandbox Toolkit
Ruins & Ronin
VA1 Valley of the Five Fires
Enjoy some unusual Old School gaming and help out a good cause HERE - Thank you!
Total value: $45.43, Special bundle price: $15.00 Savings of: $30.43 (67%)
Page list last updated: 2 May 2015