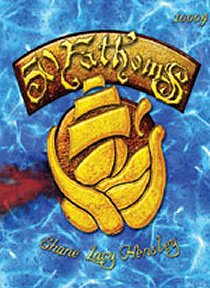 A setting for Savage Worlds, with pirates and fantastical creatures competing for power and treasure amidst the islands which are all that remain of Caribdus.
Publisher's blurb: "The natives say a trio of witches were discovered working dark sorcery in the land of Ograpog. The three were tried, sentenced by King Amemnus himself, and drowned with the rising tide. But with their dying breath the sisters uttered a dark curse, drowning Caribdus beneath 50 Fathoms of water. Soon after, ships from another world drifted through the mists of earth and into the 'Thousand Isles.'
"The visitors are sailors from the age of piracy, dashing corsairs, bloodthirsty buccaneers, or savage sea dogs. They've taken to this new world and now sail alongside its strange inhabitants - crab-like scurillians, massive grael, lonely doreen, mysterious kraken, cruel kehana, and the near-human masaquani. Many believe these visitors are destined to defeat the Sea Hags and save Caribdus, but most just seem interested in plundering her for the forgotten treasures of a drowned world."
More when I get hold of a copy!
Book Details:
Author: Shane Lacy Hensley
Publishers' Reference: PCE10004
ISBN: 1-930855-63-X
Hardback, 144 pages
Date: 2003
Buy this product:
Product page last updated: 27 December 2014