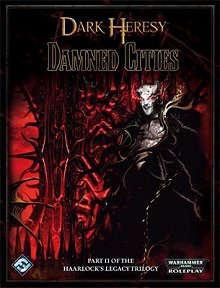 This, the second part of the Haarlock's Legacy trilogy of adventures (although it can be played on its own if preferred), is a murder-mystery set in the city of Sinophia Magma on the planet Sinophia. A decaying corrupt city, the format is designed to allow the Acolytes to investigate when and where they like with other intrigues unfolding about their ears - these may or may not be connected with the task in hand. To this end, there's a detailed gazetteer of Sinophia Magna and loads of detail about local personalities and the intrigues they are involved in as well as all the necessary information to run the murder investigation, thus providing a rich setting with a lot going on... oh, and if they fail to solve the murders, it's likely the whole city will erupt into bitter civil war. And there's a trapped demon trying to get out as well. No pressure then.
The adventure itself is made up of three stages. The first introduces them to the city and the trail of gruesome murders they are tasked with investigating. In the second part, events swirl about them as they are caught up in growing conflict between the underworld and local law enforcement (the State Enforcers) - each seem as bad as the other - and in the final part matters come to a head and there are difficult choices to be made. Throughout, there are scheduled events and encounters which you can use as appropriate in response to the Acolytes' investigations and movements around the city.
There's plenty of advice for the GM, both in a specific section on running murder mysteries and throughout the entire module, as well as copious detail on the city itself and the people to be found there. If you enjoy hectic city-based adventures with a myriad of intersecting plot threads, this is worth considering for that alone. Clues are well signposted with suggestions on how to make them obvious to the Acolytes whilst letting them feel that they are rooting them out for themselves (always a challenge in an investigative adventure. This is definitely an adventure where prior preparation and thorough knowledge of the plot and setting will stand the GM in good stead - you can then let your players loose and react to whatever they decide to do seamlessly.
The gazetteer is a wonderful resource which will support future visits to Sinophia and spawns plenty more plot ideas as you read through it - it's something you may well want to come back to after this adventure has been completed. It's very atmospheric and provides plenty of tools to enable you to set the scene well for your players. To add to this, there is in-depth background material on the various factions and other factors at play within Sinophia Magna - even if there were no murders to investigate, there is plenty for the Acolytes to get involved in! There's a real feel of a living - albeit decrepit, corrupt and decaying - place here, it is no mere backdrop for the adventure's core plotline.
It all makes for a fascinating and memorable adventure that brings home the real nature of the Warhammer 40K setting, the air of grandeur and decay is all-pervasive; whilst the adventure itself is replete with twists and turns to keep the most avid dectective happy. Thoroughly enjoyable from both sides of the GM screen (at least, I think it would be fun to play... it certainly is a delight to run).
Return to The Haarlock's Legacy II: Damned Cities page.
Reviewed: 20 April 2015