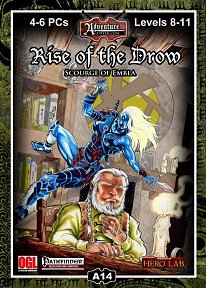 An adventure for characters of levels 8-11, being the second part of the Rise of the Drow adventure path.
Publisher's blurb: "After battling their way to the dwarven trade center of Embla, the PCs find a city under siege, as business dries up and the population show increasing signs of fear towards the drow city of Holoth and its power-hungry head family, House Gullion. So confident, so audacious has Matron Maelora of House Gullion become, that she starts the plans to expand the influence of her house to both the Under and Overworlds by assaulting Embla, initially in a small way, but with greater plans afoot.
"Once the ruling council of Embla has woken up to its predicament and gained the PCs as allies, it takes full advantage of the Overworlders help. With most of Embla's dwarven warriors having been enslaved or killed, the party represents an unexpected addition to the city's arsenal; advice, guidance and equipment are offered, and the party can either attempt to enter the city of Holoth with a force of Rybalkan soldiers or go along with a reliable and revitalized guide into the lesser-used passages of the Underworld.
"But neither path is the easy route; each has its perils and predicaments. Allies may be gained or friends lost, and approaching Holoth will tax the party. Because on accepting the calls to help the dwarves of Embla, the PCs find their choices will have profound implications on the Underworld, as well as Rybalka and the entire Vikmordere Valley. When the dust settles, the entire region may be changed forever."
More when I get hold of a copy!
Book Details:
Authors: Stephen Yeardley and Jonathan Nelson
Publishers' Reference: A14
ISBN: n/a
PDF, 84 pages
Date: 2012
No longer available, see the separate Rise of the Drow section for the revised version.
Product page last updated: 7 February 2015