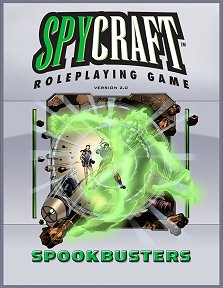 Don't cross the beams...
Publisher's blurb: "Hunt down oogie boogies in the dead of night and free your city from the terrors of its dead! In Spookbusters you play everyday heroes rubbing shoulders with mad scientists and employing cutting-edge technology to protect normal people from paranormal entities. It's a dirty job, and it's often thankless too, but there are plenty of excellent perks including...
Play a buster or a spook! Character options are included for both sides of the veil.
Grab your pick of feats to master the hunt, unrael the occult, haunt with the best of 'em, or sell out for fame and fortune.
Assemble a crack team and build your own spookbusting franchise in a microsetting of Biblical proportions.
Gear up with the best ectoplasmic sensors and sonic traps a maxed out credit card and a blown graduate grant can buy.
Face down unholy threats and chase down twisted plot seeds beyond reckoning.
Eat a twinkie (a really, really big twinkie) and save the world!
"Are you troubled by strange noises in the middle of the night? Do you experience feelings of dread in your basement or attic? Have you or your family ever seen a spook, specter, or ghost? If the answer is yes, then don't wait another minute - pick up the phone and call the professionals. Our courteous and efficient staff is on call 24 hours a day to serve all your supernatural elimination needs."
Book Details:
Author: Mark Newman
Publishers' Reference: CFG20215
ISBN: n/a
PDF, 25 pages
Date: November 2014
Buy this product:
Product page last updated: 23 February 2015