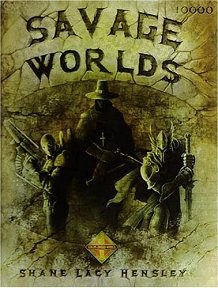 The revised edition was released in late 2004 as a PDF ebook, with the hardcover seeing print in early 2005. Among the changes in this version are full colour illustrations and layout, additional spells/powers and monsters, a change in damage bonuses, and the removal of the skirmish rules.
Publisher's blurb: "Welcome to a revolution in gaming - Savage Worlds - a merger of the best ideas in roleplaying and miniature battles! What's so revolutionary about this game? We're glad you asked!
"First, Savage Worlds was designed to be super-easy for the Game Master to write adventures, create new villains and monsters, and run epic tales. We've made the rules as streamlined as possible and kept the bookkeeping to a minimum so the GM can concentrate on the action without having to worry constantly about the rules. You won't have to lug around a half-dozen core rulebooks, campaign books, and class books. You'll find everything you need right here or in one of our Savage Settings.
"Second, Savage Worlds works as a miniatures battle game as well as a roleplaying game. That means you can fight out your heroes' epic battles to save the world right on the table-top! You can even play a competitive battle with troops of your own design! Even better, your party won't have to fight alone! Nonplayer characters are simple to use and easy to keep track of, so the players control their own hirelings, leaving the GM free to concentrate on their foes.
"Finally, Savage Worlds was designed to be used with any genre - from swashbuckling pirates to superheroes and sci-fi. It's easy to create your own world or play in one of Pinnacle's Savage Settings, including the darkest of all fantasy worlds, Evernight; Blood Moon, a Gothic Apocalypse; and Slipstream, pulp adventures in the depths of space with aliens and spaceships galore! Our Weird Wars series also uses the Savage Worlds system, and features creepy tales of historical horror during the world's most violent conflicts!"
More when I get hold of a copy!
Book Details:
Authors: Shane Lacy Hensley, John Hopler, and Zeke Sparkes
Publishers' Reference: PEG10000
ISBN: 0-9763601-0-1
Hardback, 145 pages
Date: 2004
Buy this product:
Product page last updated: 25 December 2014