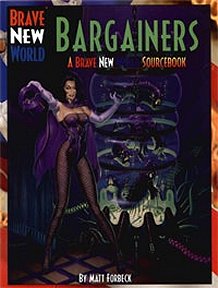 A strange breed of deltas, the Bargainers.
Publisher's blurb: "If you're willing to make a deal with the devil - well, just about any devil, actually - untold power awaits you. If, that is, you're one of the few souls - the select few deltas - who can actually converse with these creatures from the nether realms.
"Of course, power doesn't come without a price, and sometimes it's higher than what you might be willing to pay. What would it be worth to you if you could fly or bounce bullets off your chest or charm your way into any room in the world? How far are you willing to go in pursuit of those abilities? How many heads are you willing to step on in your rocket ride to the top?
"It's a hard life when the demons whisper bitter nothings in your ears all day and night, and the temptations that life presents you with can sometimes be overwhelming. You can do a lot of good with that kind of power, but careful of who you might harm.
"As a Bargainer, you can cut the deals. It's up to you to figure out if you should."
Book Details:
Author: Matt Forbeck
Publishers' Reference: AEG8005
ISBN: 1-887953-07-8
Paperback, 128 pages
Date: 2000
Buy this product:
Product page last updated: 31 October 2014