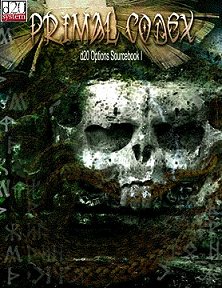 A collection of useful rule supplements, new items and other stuff; of particular use if nature becomes as much of an enemy as the monsters in your setting.
Publisher's blurb: "This is an indispensable sourcebook for any campaign setting. It is especially useful for adding a primitive or stone age flavor to an existing campaign. The Primal Codex contains dozens of new spells, magic items and monsters as well as new races, classes and feats. The centerpiece of this supplement, however, is the chapters on poisons, diseases and conditions. The codex provides d20 rules for anthrax, rabies, cholera, seizures, depression, dismemberment, death camas, and oleanders. Furthermore, the Codex also includes rules for simple wilderness traps, optional rules for grappling, and new uses for for Knowledge and Profession skills."
More when I get hold of a copy!
Click HERE to buy this from RPG Now.
Book Details:
Authors: Unknown
Publishers' Reference: Unknown
ISBN: Unknown
PDF, 122 pages
Date: December 2001