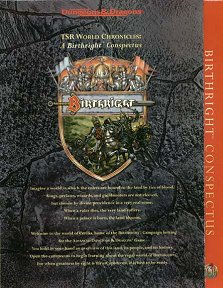 An advertising flyer, rather attractive by all accounts...
Publisher's blurb: "Imagine a world in which the rulers are bound to the land by ties of blood. Kings, prelates, wizards, and guildmasters are not elected, but chosen by divine providence in a very real sense.
"When a ruler dies, the very land suffers. When a prince is born, the land blooms.
"Welcome to the world of Cerilia, home of the BIRTHRIGHT Campaign Setting for the ADVANCED DUNGEONS & DRAGONS Game. You hold in your hand an overview of this land, its people, and its history. Open the conspectus to begin learning about the regal world of BIRTHRIGHT: For when greatness by right is thrust upon you, it is best to be ready."
More when I get hold of a copy!
Book Details:
Authors: Unknown
Publishers' Reference: Unknown
ISBN: n/a
Fold-out map with text.
Date: 1995
Buy this product:
Not found on legitimate release anywhere. Please let me know if you find it anywhere other than filesharing sites.
Product page last updated: 2 September 2014