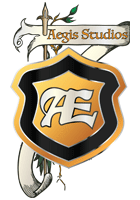 Celebrating their 10th birthday of publishing in 2014, Aegis Studios actually began in 2001 as the publication house responsible for the Contagion Role-Playing Game. A partnership between three geeks known as the Senior Partners, Aegis Studios was at the forefront of PDF-driven RPG publishing.
In the beginning, Aegis Studios was a partnership, bringing the unified vision of three young men from Rockford, Illinois to the public through RPG and RPG-related material. Those three young men were Toy Cesar, Travis Legge, and Darius McCaskey. In 2009, Darius McCaskey and Toy Cesar left Aegis Studios. It is now a wholly owned subsidiary of Plastic Age Productions, run by Travis Legge. The Aegis Studios name remains on all RPG products published by Plastic Age Productions as an imprint of the larger company.
Contagion RPG
Crazy8s - a rules-light universal game system
Dungeons & Dragons 5e resources
First Fable resources
Glimpse the Beyond RPG
Hero Kids resources
Monsters and Mutants 3e resources
Savage Worlds resources
Swords and Wizardry resources
They seem to have given up on a website proper, but you can find them on Facebook and on Twitch.
Company Section last updated: 14 May 2019