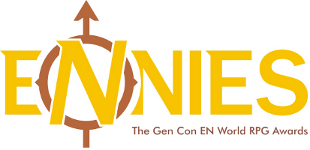 Here are the products entered for the 2014 ENnies Awards.
0one Games
0one's Blueprints: Eerie Forest - Ruins of Spiderhaunt Manor
0one's Blueprints: Ten Small Dungeons
Deep Blues: 221B Baker Street
Adventures in Filbar
F1 - Zombie Curse
FA2 - Springwood Forest
FC1 - Turret of the Frost Giant
FP12 - Raiders at Fargone
FS2 - Tabernacle of the Ka-Sik-Fal
FS4 - Xavier's Wand
Adventureaweek.com
Aetheric Dreams
Agate Editions
Shadows of Esteren Book 0 - Prologue
Shadows of Esteren Book 0 - Prologue (Kickstarter Edition)
Shadows of Esteren Book 2 - Travels
Anna B Meyer Fantasy Maps
Appbrewers.com
Old School Monsters Database
Arc Dream Publishing
Better Angels
The Sense of the Sleight-of-Hand Man
The Unspeakable Oath
Arion Games
Atomic Overmind Press
The Day After Ragnarok: Fate Core Edition
Attention Span Game Studios
DnDizzle: Dragons in the Hood
Beer Star Games
Pulp! Fantasy: Scentia Besieged From Within and Without
Blackwyrm Publishing
Faith & Gaming: Revised and Expanded Edition
God Loves the Freaks: A Guide to Subculture Ministry
Imaginary Friends
Sands of Times
Blogs
Brabblemark Press
Brooklyn Indie Games
OmegaZone Instant Setting Deck
Bull Cock Press
Bestiary of Fantastic Creatures Volume 1: Bizarre Monsters
Bully Pulpit Games
By Night Studios
Mind's Eye Theatre: Vampire The Masquerade
Catalyst Game Labs
BattleCorps Anthology Vol 4 Fire for Effect
BattleTech: Alpha Strike
Cosmic Patrol: The Moon Must Be Ours!
Shadowrun 5th Edition
Shadowrun 5th Edition, GM Screen
Shadowrun Gear Cards, SR5 Series 1
Shadowrun Splintered State
Castles & Chemo, Inc.
Castles & Chemo: The IndieGoGo Collection
Castles & Chemo: Paper Miniatures
Chaosium Inc.
Advanced Sorcery
Astounding Adventures
Call of Cthulhu 7th Edition Quickstart
Canis Mysterium
House of R'lyeh
Magic World
Secrets of Tibet
Chronicle City
Adventures in Kaphornia 01 - Draconian Rhapsody
Adventures in Kaphornia 02 - The Island of Piranha Men
Broken Shield
Cogs, Cakes, and Swordsticks
Cold & Dark
Eternal Contenders
Investigator Weapons Volume 1
Irrepressible!
Shadows Over Vathak
The Demolished Ones
War of the Dead: Chapter 4
Council Of Fools LLC
Ehdrigohr: The Roleplaying Game
Crafty Games
Laboratory of the Forsaken
Little Wizards
Terris: Wrought of Copper
Creepy Doll Studios
Dead Teenager RPG
Dude, Run!
One Foot in the Grave
Crone RPG
Cubicle 7 Entertainment
Doctor Who RPG - The Ravens of Despair
Doctor Who RPG: The Third Doctor Sourcebook
Hobbit Tales from the Green Dragon Inn
Kuro - Last Stop
The One Ring: The Heart of the Wild
Rocket Age RPG
Rocket Age - The Lost City of the Ancients
Rocket Age - Mind Dunes of the Moon
World War Cthulhu: The Darkest Hour
Victoriana RPG - Third Edition
Dangerous Games
Becoming: A Game of Heroism and Sacrifice
Rough Cuts: 6 Micro Games
Dig a Thousand Holes Publishing
Worlds Without Master Volume 1, Issues 1-3
DOM Publishing
Fantastic Heroes & Witchery
DramaScape
CityScape Vol 1
Savage Worlds SciFi Weapons Cards
Skull Cove
Space Station
Elf Lair Games
End Transmission Games LLC
Biotech
Firefight
Singularity System Core
Wild Talents
Engine Publishing
Odyssey: The Complete Game Master's Guide to Campaign Management
Ennead Games
ePic Character Generator
Eschaton Media
Dystopia Rising LARP Survivor's Guide
Pillars of Dead Light
Project Paradigm - The World Shift Experiment
Evil Beagle Games
Day in the Life: Gaming in the Downtime
Shaintar: Legends Arise
Evil Hat Productions
Fate Accelerated Edition
Fate Core System
Fate Dice - Antiquity Dice
Fate Dice - Atomic Robo
Fate Dice - Core Dice
Fate Dice - Dresden Files: Winter Knight
Fate Dice - Eldritch Dice
Fate Dice - Spirit of the Century Centurion Dice
Fate Dice - Valentine Dice
Fate Dice - Vampire Dice
Fate System Toolkit
Fate Worlds Volume One: Worlds on Fire
Fate Worlds Volume Two: Worlds in Shadow
Sally Slick & the Steel Syndicate
Spirit of the Century Presents: Beyond Dinocalypse
Spirit of the Century Presents: Khan of Mars
Spirit of the Century Presents: King Khan
Strange Tales of the Century
Venture City Stories - A World of Adventure for Fate Core
Evil Hat Productions/Green Ronin Publishing
Fear the Boot
Sojourn: An Anthology of Speculative Fiction
Four Dollar Dungeons
Journey to Cathreay
The Key to Marina
Panataxia
Four-in-Hand Games
Steamscapes: North America
Frog God Games
Hall of Bones
Razor Coast
Razor Coast: Fire As She Bears
Razor Coast: Freebooter's Guide to the Razor Coast
Razor Coast: Heart of the Razor
Gaming Paper
Gaming Paper Adventures: Demoncall Pit
Gaming Paper Adventures Map: Mega Dungeon 2 - Lost Catacombs
A Steam-Peek Guide to Orbis
Geek Industrial Complex
Companions of the Firmament
Genesis of Legend Publishing
A Spark In Fate Core
Spark Roleplaying Game
Genius Loci Games
Cartographer's Guide to the Creatures of Eira
Goodman Games
Dungeon Crawl Classics #81: The One Who Watches From Below
Green Ronin Publishing
DC Adventures: Universe
Mutants & Masterminds: Power Profiles
Mutants & Masterminds: Supernatural Handbook
Hero Games
Monster Hunter International Employees Handbook and Role Playing Game
Hex Games
Beowulf Vs. Grendel
Hobomancer Companion
IMP
Self-Made Space Marine
Sharktoberfest
Hyacinth Games
Imaginary Empire
EPOCH: Shadows of Yesterday
EPOCH: Silent Night
EPOCH: War Stories
Inkwell Ideas
Cityographer>/li>
Creature Decks: Creature Information Cards; 54 Aberrations & Magical Beasts
Encounter Decks Set 1
Journeyman Games
Kalijor Press
Kalijor: Kids Role Playing Game
Kalijor Role Playing Game
Kobald Press
Advanced Races: Kobolds
Deep Magic
Kobold Guide to Magic
Midgard Bestiary: 13th Age Roleplaying Game Compatible Edition
New Paths Compendium
Kotodama Heavy Industries
Tenra Bansho Zero: Tales of Heaven and Earth
Lamentations of the Flame Princess
Adventure #10
Better Than Any Man
Forgive Us
F*** For Satan
Lamentations of the Flame Princess Weird Fantasy Role-Playing Rules & Magic - Player Core Book
Scenic Dunnsmouth
The Seclusium of Orphone of the Three Visions
Qelong
Legendary Games
Gothic Campaign Compendium
Ultimate Battle
Unrighteous Villains
Lesser Gnome
Whisper & Venom Collector's Set
Lone Wolf Development
Margaret Weis Productions
Firefly RPG: Gaming in the 'Verse Gen Con 2013 Preview
Melior Via, LLC
Accursed
Accursed - The Festival at Glenelg
Accursed - Patchwork
Merlino Entertainment LLC
Heroes' Tale the Role Playing Card Game
Midnight Syndicate Soundtrack
Moebius Adventures
Brick by Brick: Doors
Little Spaces: Abandoned Places
Modiphius / Mindjammer Press
Monte Cook Games, LLC
The Devil's Spine
Injecting the Weird
Love and Sex in the Ninth World
Numenera
Numenera Creature Deck
Numenera Player's Guide
The Ninth World Bestiary
Tales from the Ninth World
Mór Games
Plight of the Tuatha, Vol. 1: Feast Hall of Ash
Mystical Throne Entertainment
Mythos Core Setting Guide
Perilous Journey #1: Portsmouth (New World Part 1 of 14)
Savage Insider Issue #9: Tales of the Weird
Shadowed Earth (Core Setting Guide)
Ultimate Pirates, Privateers and Plunder Guide
NEVR
Insight RPG System Core Rulebook
New Big Dragon Games Unlimited
Old School Adventures Accessory AX2 d30 Sandbox Companion
Northwinter Press
Mystical: Kingdom of Monsters
Obatron Production
Olde House Rules
Fear! Fire! Foes!
Pits & Perils
Ondine Publishing
Parsantium: City at the Crossroads
Onyx Path Publishing
Blood and Smoke: The Strix Chronicle
Demon: The Descent
Outrider Studios
Paizo Publishing
Pathfinder Adventure Card Game: Rise of the Runelords Base Set
Pathfinder Adventure Path: Rasputin Must Die!
Pathfinder Campaign Setting: Inner Sea Gods
Pathfinder Campaign Setting: Osirion, Legacy of Pharaohs
Pathfinder Campaign Setting: Wrath of the Righteous Poster Map Folio
Pathfinder Flip-Mat: Basic Terrain Multi-Pack
Pathfinder Module: We Be Goblins Too!
Pathfinder Roleplaying Game: Advanced Class Guide Playtest
Pathfinder Roleplaying Game: Bestiary 4
Pathfinder Roleplaying Game: Mythic Adventures
Pathfinder Roleplaying Game: Ultimate Campaign
PFS 5-07: Port Godless
PFS 5-08: The Confirmation
Paizo Fans United
Wayfinder #10: Katapesh and Qadira
paNik Productions
Pelgrane Press
13th Age
The 13th Age System Reference Document
Blood on the Snow: A DramaSystem Companion
Complete Eternal Lies Suite
Cthulhu Apocalype: Slaves of the Mother
Double Tap: The Night's Black Agents Expansion Book
The DramaSystem System Reference Document
Dust and Mirrors: Night's Black Agents
The Esoterrorists 2nd Edition
The Esoterrorists - Albion's Ransom: Worm of Sixty Winters
The GUMSHOE System Reference Document
Hillfolk
Noteboard
Owl Hoot Trail
See Page XX
Trail of Cthulhu: Eternal Lies
Trail of Cthulhu: The Final Revelation
Pelgrane Press Ltd / Fire Opal Media
Tales of the 13th Age: Wrath of the Orc Lord
Pinnacle Entertainment Group
Achtung! Cthulhu - Keeper's Guide to the Secret War
Deadlands Noir
Deadlands Noir Companion
Deadlands Noir Dime Novel: Memories of Yesterday
Deadlands Noir GM Screen
Deadlands Noir Map: Cemetery/Crypt
Deadlands Noir Map: Hotel/Manor
Deadlands Noir Map: Mississippi Bayou
Deadlands Noir Map: New Orleans & Hexaco
Deadlands Noir Map: Offices/Warehouse/Theatre
Deadlands Reloaded: Ghost Towns
Deadlands Reloaded: Grim Prairie Trails
Deadlands Tall Tales: Broken Hearts
Deadlands Tall Tales: Doctor Tregan's Mechanical Wonders
Super Powers Companion Villain Supplement
Weird Wars Rome
Weird Wars Rome Archetypes
Weird Wars Rome Combat Map: Druid Circle/Village
Weird Wars Rome Combat Map: Frontier Fortress/Village
Weird Wars Rome Creature Feature: Cyclops
Weird Wars Rome: Creature Feature: Hydra
Weird Wars Rome Enemies of Rome Figure Flats
Weird Wars Rome GM Screen
Weird Wars Rome: The Half-Set Sun
Weird Wars Rome Heroes of Rome Figure Flats
Weird Wars Rome One-Sheet: Fangs of the Viper
Weird Wars Rome Soundtrack: Strength and Honor
Weird Wars Rome Wellspring
Wendigo Tales: Season 1: Weird War I: Hellfighter
Wendigo Tales: Season 1: Weird War II: Los!
Wendigo Tales: Season 1: Weird War I: No Man's Land
Wendigo Tales: Season 1: Weird War I: Teufelshunde
Wendigo Tales Season 1: Weird Wars Rome: Without Fear
Wendigo Tales Season 1: Weird Wars Rome: With Utmost Dispatch
Wendigo Tales: Season 1: Weird War II: Wunderwaffe
Wendigo Tales: Season 2: Necessary Evil: Faces of Destruction
Wendigo Tales: Season 2: Necessary Evil: Fallen
Wendigo Tales: Season 2: Necessary Evil: Malcontents
Wendigo Tales: Season 2: Necessary Evil: Maps to the Stars
Wendigo Tales: Season 2: Necessary Evil: Purgatory
Wendigo Tales: Season 2: Necessary Evil: Tablets of Destiny
Wendigo Tales: Season 2: Necessary Evil: Thicker Than Water
Wendigo Tales: Season 2: Necessary Evil: The Third War
Podcasts
Hobomancer First Session Actual Play
Posthuman Studios
Eclipse Phase: The Devotees
Transhuman
Privateer Press
Iron Kingdoms Full Metal Fantasy RPG: Kings, Nations, and Gods
Purple Duck Games/4 Winds Fantasy Gaming
AL 1-5 - The Stars are Falling (DCC)
CJ Ruby's Exploding Aces
Deus ex Historica (M&M 3E)
FT 0 - Faerie Tales from Unlit Shores: Prince Charming, Reanimator
Monsters of Porphyra
Q-Workshop
Pathfinder Shattered Star Dice Set
Q-Workshop & Green Ronin
Reality Blurs
Ravaged Earth Revised 2nd Edition
tremulus
Realityforge
Rogue Genius Games
RoleplayingTips.com
200 Story-Exploding Character Hooks
Slugfest Games
The Red Dragon Inn: Guide to Inns and Taverns
Small Niche Games
Guidebook to the City of Dolmvay
Sneak Attack Press
Broken Earth (Pathfinder)
Broken Earth (Savage Worlds)
Stark City Games/Fainting Goat Games
Stark City Campaign Setting and City Building Toolset
Steel Steed Studio
Strangelet Machine Games
Age Past: The Incian Sphere
Stygian Fox Publishing
Colonial Times #1
Colonial Times #2
The Dragons of Britain
Super Genius Games
TaleSpinner Holdings
Bangers
Enter The Protagonist
Trigger Happy
Third Eye Games
Camp Myth: The RPG
Wu Xing: Truth & Lies
Troll Lord Games
Codex Celtarum
Free City of Eskadia - Jack of Lies
Rune Lore
Uncanny Books
VSCA Publishing
Websites
Wizards of the Coast
Living Forgotten Realms: EPIC5-2 Dragons Dark
Living Forgotten Realms: EPIC6-1 Confrontation in Shadow
WizKids Games/NECA
Pathfinder Battles: Wrath of the Righteous
Pathfinder Battles: Wrath of the Righteous Gargantuan Demon Lord Deskari
Word Studio
Zombie Sky Press
It Came from the Stars Campaign Guide
Page last updated: 31 May 2014