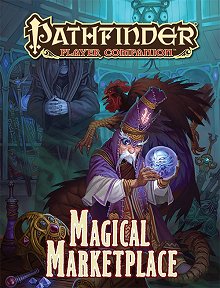 If there's one thing adventurers like to do apart from brawl, it's shopping!
Publisher's blurb: "Gather your gold and get ready to upgrade your gear with Pathfinder Player Companion: Magical Marketplace! The merchants of Golarion have honed their skills for years, plumbed ancient sites of legend, and made deals with otherworldly forces to dredge up miraculous magic items salable to intrepid adventurers such as yourself. From the opulent boutiques of the Ivy District in Absalom to the bustling black markets of Katapesh's Nightstalls, the shopkeepers herein stock a wide range of magical items useful to adventurers of any walk. Whether you seek to poison enemies with a mere gesture, walk the ocean floor in search of plunder, shatter bones with magical hammers, or enhance your body with clockwork prostheses, these dealers are sure to offer the key to your success. In addition, these practiced merchants each offer a host of unique and useful abilities to teach their favored and frequent customers.
"Magical Marketplace contains dozens of new magic items and character options keyed to a variety of shops both big and small within the Pathfinder campaign setting."
More when I get hold of a copy!
Book Details:
Authors: John Ling, Ron Lundeen, Patrick Renie, David Schwartz, and Jerome Virnich
Publishers' Reference:
ISBN: 978-1-60125-600-3
Paperback, 32 pages
Date: December 2013
Buy this product:
Product page last updated: 22 January 2014