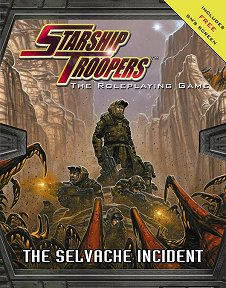 Everybody fights, nobody quits.
Publisher's blurb: "A story of triumph and tragedy, courage and cowardice and, ultimately, perseverance in the face of overwhelming opposition, The Selvache Incident is the first adventure for Starship Troopers: The Roleplaying Game.
"In this adventure a group of relatively green Mobile Infantry troopers are assigned to Lockwood's Lions, a squad that suffered heavy losses during the events of the second Pluto campaign, colloquially known as Operation: Pest Control.
"Sent to relieve the small garrison at a SICON system monitoring station on the third moon of the gas giant Selvache, the Lions are a long way from home. Far beyond Altair, the Selvache SSMS was established to monitor and warn of any potential Arachnid activity passing through the system on its way towards Sol.
"But the troopers soon discover that the Selvache station is not the only thing to call the third moon 'home'. Buried deep beneath the moon's surface, bugs swarm through a rapidly expanding tunnel network in a bid to secure their foothold in the Selvache system.
"The Lions are caught in a fight for their lives as they make their way across the moon's surface on their way towards the monitoring station in the hope of finding survivors, calling in help and escaping the moon alive.
"Designed for four to six player characters of between 1st and 3rd character level The Selvache Incident is an excellent introduction into the world of Starship Troopers: The Roleplaying Game.
"Includes FREE GM's Screen."
More when I get hold of a copy!
Book Details:
Author: Matthew Sprange
Publishers' Reference: MGP9203
ISBN: 1-905176-92-9
Paperback, 32 pages
Date: August 2005
Buy this product:
Product page last updated: 15 August 2013