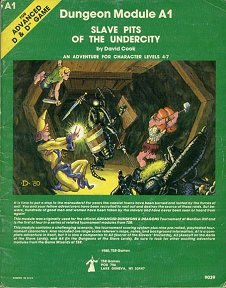 A1: Slave Pits of the Undercity was the first TSR publication to introduce players in the Greyhawk setting to the Slave Lords and their operations in the central and southwestern Flanaess. It is the first in a series of medium-level (4-7) scenarios that provide the player characters with a mission to track down marauding coastal raiders.
Publisher's blurb: "It is time to put a stop to the marauders! For years the coastal towns have been burned and looted by the forces of evil. You and your fellow adventurers have been recruited to root out and destroy the source of these raids. But beware, hundreds of good men and women have been taken by the slavers and have never been seen or heard from again!
"This modules was originally used for the official ADVANCED DUNGEONS & DRAGONS Tournament at GenCon XIII and is the first of four in a series of related tournament modules from TSR.
"This module contains a challenging scenario, the tournament scoring system plus nine pre-rolled, playtested tournament characters. Also included are large scale referee's maps, notes, and background information. A1 is a complete adventure in itself, but it is also a companion to A2 (Secret of the Slavers' Stockade), A3 (Assault on the Aerie of the Slave Lords), and A4 (In the Dungeons of the Slave Lords). Be sure to look for other exciting adventure modules from the Game Wizards at TSR."
More when I get hold of a copy!
Book Details:
Author: David Cook
Publishers' Reference: TSR9039
ISBN: 0935696253
Paperback, 24 pages
Date: October 1980
Buy this product:
Product page last updated: 18 May 2016