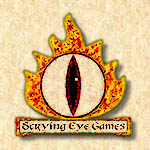 Scrying Eye Games provide maps that you can really use... some based around specific rulesets (like the lovely Traveller deckplans and others more generic.
Art Packs
Crossroads to Valour
Darkened Gates
Dreams of Steam
INN-teriors
Modular Towers
OrcTown
Ships of Fantasy - mostly fantasy but some historic ships
The Ravenlands
Topo-Tiles - generic terrains
Welcome to Mortiston, USA - system-agnostic modern zombie resources
S.E.G. Highport - ships for Traveller
Visit their website.
Company Section last updated: 16 July 2013