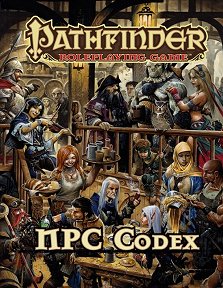 A wealth of characters to populate your world, created in loving detail.
Publisher's blurb: "It's happened to every Game Master. You spend hours setting up the perfect encounter, your players are out for blood, the swords are drawn - and then you realize that you've forgotten to build statistics for the enemy characters. Or perhaps your players go left when you expect them to go right, leaving you without any encounters prepared.
"Such problems are a thing of the past with the NPC Codex\. Inside this tome, you'll find hundreds of ready-made stat blocks for nonplayer characters of every level, from a lowly forest poacher to the most majestic knight or ancient spellcaster. Whether you're planning out future adventures or throwing together encounters right at the table, this book does the work so you can focus on playing the game."
More when I get hold of a copy!
Book Details:
Authors: Jesse Benner, Jason Bulmahn, Adam Daigle, Alex Greenshields, Rob McCreary, Mark Moreland, Jason Nelson, Stephen Radney-MacFarland, Patrick Renie, Sean K Reynolds, and Russ Taylor
Publishers' Reference: PZO1124
ISBN: 978-1-60125-467-2
Hardback, 320 pages
Date: November 2012
Buy this product:
Product page last updated: 9 June 2013