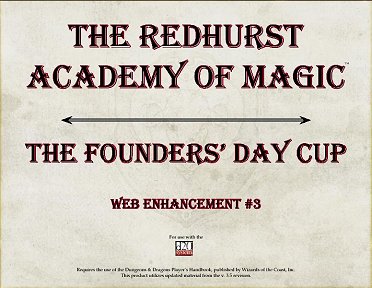 This adventure, aimed at 3rd-level characters and preferably ones who are Redhurst students, is a tale of revenge wound around the most prestigious Spellflag match of the sporting year.
Assuming that the characters are Redhurst students, they are selected to play on the Academy spellflag team, which will be playing in the annual tournament for the Founders' Cup. Several other teams, from various schools of magic, will also be competing, but there is one team, that of Ashbury College, that is clearly the main rivals to Redhurst's own team. Unbeknownst to all, Ashbury's team will be cheating (indeed, they have been all the way through the spellflag season). A former Redhurst student, who was expelled for attempting to cheat in his final exams, is behind the plot: he was forced to leave just before the Founders' Day spellflag match several years ago and as he was the leading spellflag player of his year he was understandably peeved at not being able to participate.
The scenario is very atmospheric, with the carnival atmosphere of the end of the summer term and the Founders' Day celebrations well described. There's plenty going on for the characters to get involved in, including an incipient brawl between Ashbury students and a Redhurst 2nd year who is putting on a puppet show.
The first day consists of the elimination rounds of the tournament, with the expected result of the leading teams - due to play the championship game the following day - being Redhurst and Ashbury. Tradition dictates that the Redhurst team spends the night in vigil in the graveyard, protecting the statues... Let's just say that tonight they will need defending.
The following day comprises the Founders' Day parade, the championship match and the feast that follows. It's suggested that the championship match be played out in full, and you will need a copy of the Spellflag Rules to do so. Hopefully, the characters will discover what is going on in time to expose the skullduggery and win the match...
Return to The Founders' Day Cup page