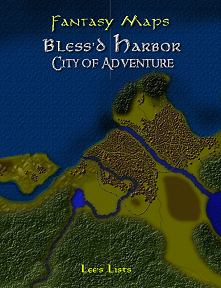 The map itself is an entire coastal township, presented in PNG format which allows for almost infinite magnification without loss of clarity or focus (computing teacher resists temptation to explain the ins and outs of WHY format is important...) - so it's easy to show your players an overview whilst making a really detailed map of what's where for GM use.
Also provied is a black and white map, and this is not just for those who do not want to use up all their printer ink! It shows the surrounding area in a different way, in particular roads are easier to see.
The cover gives a good general impression of the township, which is spread around two rivers and a tongue of land in between. One river rises in a large lake, the other passes through a smaller lake and then twists off through the woodlands inland. Both the woodland and the general appearance of the plains suggest a temperate region. There is also a large offshore island that boasts a couple of small communities. The main settlement is walled, with a few scattered buildings outside the wall - perhaps later developments, or for purposes that you don't really want within city limits... a tannery or a gaol or a plague hospital as examples. Individual buildings, of a pleasing variety of sizes, become visible as you zoom in.
Along with the maps, you get a gazetteer which can be used to aid in developing your harbour township. There's a selection of local notables, some of the inns and other businesses, and even organisations, all presented in generic format ready for you to add the necessary details for your chosen ruleset.
Next, a 'zoned' version of the map is provided followed by a more detailed description of each area. The notes include main sources of income, notable sights to visit and even the odd rumour or two, as well as a full-page map of each area that you can label up (once you've printed it out or if you are good at editing PDFs) or just show to your players. There's plenty to get you started on detailing the entire settlement, without so much detail that it becomes hard to add in whatever you need to locate things important to your plotline. Plenty of scope for development without having to start your design from scratch - yet, given how all the maps are completely unlabelled, if you want to discard the suggestions and provide all the detail yourself, you can.
Overall an excellent resource if you enjoy creating adventure locations with enough provided to get you going or to suggest what you might want to include without swamping you in detail.
Return to Bless'd Harbour: City of Adventure page.
Reviewed: 18 November 2012