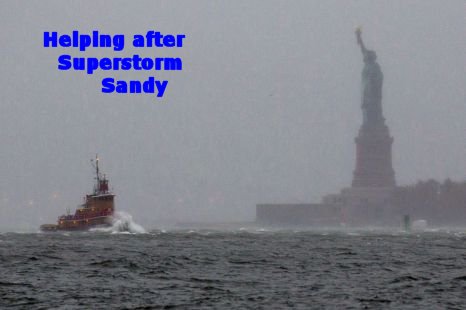 The whole world looked on in horror as a massive storm descended on New York and surrounding areas... and as ever, gamers and game companies have rallied round to help! With the assistance of the good folk at One Book Shelf, both Roleplayers Chronicle and Point of Insanity Game Studio put together charity bundles in aid of Red Cross relief efforts. Thank you to everyone who helped make it possible, and to all the generous purchasers who dug deep in support.
The Roleplayers Chronicle Bundle brought together product from several publishers. A $20 donation brought you these items, a total value of $493.26!: -
'45 - Psychobilly Retropocalypse
100 Points Four Square
Adversaries: The Triad (BASH)
Age of Lords: Campaign Setting Pathfinder Roleplaying Game
American Artifacts
Ancient Temple
Angels - Essentials
Angels - the Game of Divine Stories
Angels - the Story of Greene's Store
Antipaladins
Barroom Brawls
BP-CS0 Secret of the Pit Pathfinder
Call to Arms: Archer's Arsenal
CLASSifieds: Pyromancer
Clockwork and Chivalry 2nd Edition Core Rulebook
Coins of the Realm: Gold
Colonial Gothic: The Grimoire
Comicworld Germany
Comicworld Ukraine
Condition Tokens
Corporation Core Rules
Dark Shadows of Yesterday: An Earthdawn Novel
Diabolical Traps - The Maintenance Mummy
Dyvil: First Edition (Jeff Grubb's 30-Minute Roleplaying Game)
Edison Force
Equipment Cards
Faith & Demons: The Rising - Quick Start Guide
Faith & Demons: The Rising Player's Guide
Figurines of Wondrous Power
Fistful of Fantasy: 01
G-Core DELUXE
Gaslight Calender Pack
Gaslight Map Pack
Gaslight OGL Character Sheet
Gaslight Victorian Fantasy (OGL Edition)
Hell for Leather
Hellbrood: Countdown to Invasion
Hellfrost Creature Guide: Bufomi
Hope Prep School Freshman Handbook (ICONS)
Immortal Twilight: An Earthdawn Novel
It Came From Beyond The Still
It Came From Beyond The Still - Men in Plaid and Those Other Guys
It Came From Beyond The Still - Weapons Closet
Jingo
Killshot: An Assassin's Journal
Lady Bexington's Home for Wayward Zombies
Lizardfolk of the Dragon Fang
Mince Pies & Murder
Modern Floorplans: Cyber-Cafe
Modern Floorplans: Nightclub
Modern Floorplans: Passenger Jets
Modern Item Cards
Necropolis 2350 - The Long Sleep
Oriental Stories, Vol. 2: Four Classic Pulp Fiction Tales
Part-Time Gods
Pocket Troll #0
Portentous Dreams
Quick Worlds 17: Tal'Kalares
Quick Worlds 23: Ararat
Quick Worlds 24: Erlik
Quick Worlds 25: Sophronius
Racial Ecologies: Guide to Grippli
Random Acts of... Old West Violence
Random Acts of... Violence
Red Blizzard (Ingenium Version)
Ripped From the Headlines: Mission Interleumab-3
Roleplayers Chronicle Issue #1
ROLF: Steve Costigan and the Thief of Youth
ROLF: The Rollplaying Game of Big Dumb Fighters
Savage Insider Premium Issue #3
Shadow, Sword & Spell: Basic
Shadows of Dreams: Poetry by Robert E. Howard
Shadows over Ekul
Sherwood: The Legend of Robin Hood (OGL Edition)
Steve Miller's 30-Minute Roleplaying Game (SM-30)
Story Maps: Ocean Wreckage (PDF)
Tall Ships 8: The H.M.S. Victory
The Eternal Rest
The Gamers' Guide to the Space Opera Genre
The Gamers' Guide to Tabletop Role-playing Genres
The Imp Game - Mischief & Mayhem, Third Edition
The Modern Path - Arcana of the Modern World [PFRPG]
The Modern Path - Heroes of the Modern World 2.0 [PFRPG]
The Ossuary
The Perfect Storm
The Pine Ridge Horror
Tomorrowland: The Art of Aaron Acevedo
Troglodytes of the Tentacled One
Two-Bit Thugs
War of the Dead: Chapter Four (Package)
War of the Dead: Chapter One (Package)
War of the Dead: Chapter Three (Package)
War of the Dead: Chapter Two (Package)
War of the Dead: The Paper Dead (Set 1)
When the Navy Walked - Revised Core Rules
[PFRPG] Phantasia Zoologica Volume I: Cats, Dogs & Horses
[PFRPG] Shadowglade: Player's Guide to Shadowglade
As for the Point of Insanity Games Studio bundle, cough up $8.50 and get some $12.50 of product: -
Elemental Cross Systemless Setting
MADS Quick Start Rules
Mine of the Goblin Horde
Again, many thanks for making it both easy and rewarding to contribute to such a good cause!
Page last updated: 9 November 2012