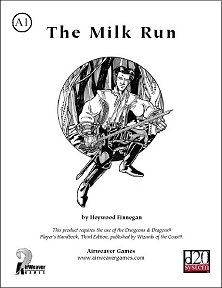 An adventure for characters of 1st-2nd level, intended to be run in a single session.
Publisher's blurb: "This adventure takes place along and near a trade road that travels through a humanoid-infested forest and may be adapted into most campaign settings with only cosmetic changes. The set-up of the story easily allows for this adventure to be a groupís first adventure together. The scenario is combat heavy and is designed to pull a group of inexperienced heroes together in a trial by fire."
Thanks to Air Weaver Games for making this available!
Available FREE from the Air Weaver Games website, click HERE to get your copy.
Book Details:
Author: Heywood Finnegan
Publishers' Reference:
ISBN: Unknown
PDF, 12 pages
Date: 2002