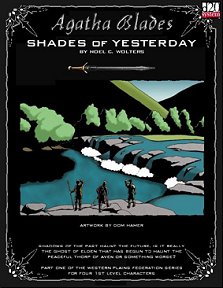 An adventure for four 1st-level characters (but scope to increase the challenge for higher-level ones) set in the Lands of Drel.
Publisher's blurb: "Deep in the heart of the Western Plains, just north and east of Aven, is a gorge. The gorge, known as Eldon's Gorge locally, has served as a place to play for children and a place for romance for young couples.
"Now it is no longer a place of happiness and light. Now, it is a place of shadow, a place of darkness. On clear nights a luminous figure can be seen wandering the bluffs of the gorge, a figure familiar to the local populace.
"But is it really the ghost of Eldon that many have seen near the gorge, or is something far more sinister?"
Thanks to Agatha Blades for making this available!
Available FREE from the Agatha Blades website, click HERE to get your copy.
Book Details:
Author: Noel C. Wolters
Publishers' Reference: Unknown
ISBN: Unknown
Word document, 31 pages + maps
Date: 2001