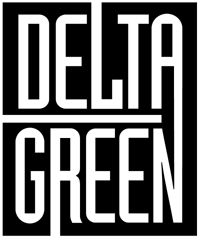 Delta Green, from Pagan Publishing, is a modern setting for Chaosium's Call of Cthulhu. Set in the 1990s (contemporary with the majority of the writing), revolves around a fictitious secret organization called Delta Green (created by the U.S. Government following the covert raid on the town of Innsmouth, Massachusetts as alluded to in H.P. Lovecraft's The Shadow Over Innsmouth) spearheaded by elements of the United States government. Its members, recruited from various government agencies, are dedicated to combating the mind-rending horrors of the Cthulhu Mythos.
The real genius of this setting is how it weaves current conspiracy theory around the classic Cthulhu Mythos, creating a real-world feel that brings UFOs, rumours of psychic experiments and all manner of strangeness into the heady mix.
After collaborating with Pagan on some products in this line, Arc Dream Publishing brought out a Delta Green RPG in 2016. In 2018, Pelgrane Press got in on the act with an adaptation to their Gumshoe system, The Fall of Delta Green.
Page last updated: 11 September 2018