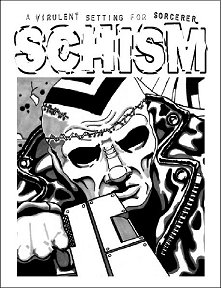 This is a variant on the base game of SORCERER, using the same basic mechanic to explore other ways of stretching and challenging the characters...
Publisher's blurb: "Rather than being sorcerers, the main characters are telepaths, psykers and clairvoyants. Instead of demons, these people possess awesome psychic powers -- inner demons, if you like. They are exploited by ruthless egotists and twisted by the surging, unpredictable changes in their own bodies and minds.
"It's grim! Schism ultimately comes down to the question of how your character is going to die - on your feet, or on your knees?"
Available direct from Adept Press
Book Details:
Author: Jared Sorensen
Publishers' Reference: Unknown
ISBN: Unknown
PDF, 36 pages
Date: Unknown