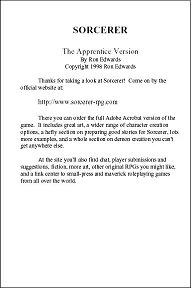 This is a free introduction to SORCERER that gives the basics of how the system works, and the underlying concepts behind the game.
Publisher's blurb: "In this roleplaying game, each player creates and runs a powerful sorcerer in the modern-day world. Each character (PC) comes equipped with at least one demon he or she has bound and at any time may try to summon and bind more demons. The demons have tremendous superhuman abilities; the sorcerers themselves have no special abilities or powers beyond their knowledge of how to summon, command, and bind them. The Game Master (GM) plays the demons as characters.
"When all is said, the rules you hold are just some instruments. The music is up to you."
Thanks to Adept Press for making this available!
Available FREE from Adept Press's Sorcerer website, click HERE to get your copy... it's right down at the bottom of the page.
Book Details:
Author: Ron Edwards
Publishers' Reference:
ISBN: Unknown
PDF, 16 pages
Date: 1998