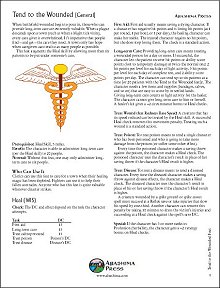 An extremely useful feat, which allows an individual to give long-term care to up to 20 people at once... just the thing if a town has been struck by disease or you are coping with the aftermath of war. The healer can also treat poisoned people, and those whose mobility has been impaired by injury (i.e. have received an injury that has resulted in a reduction in their Speed).
A feat that ought to be available in any campaign, and considered seriously by any character who is interested in the healing arts, magical or mundane.
Return to Tend to the Wounded page.