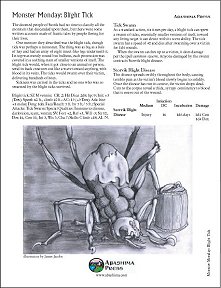 A rather nasty disease-bearing beastie that swarms over its victims in large numbers...
Publisher's blurb: "Though called a tick, it's as big as a human! This horrid creature unleashes plague-spreading ticks in a swarm of disease over unsuspecting towns."
Thanks to Abashima Press for making this available!
Available FREE from the Abashima Press website, click HERE to get your copy.
Book Details:
Author: Eric Haddock
Publishers' Reference: Unknown
ISBN: Unknown
PDF, 2 pages
Date: 2002