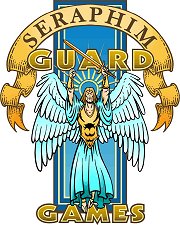 Originally trading as Domibia Games, in 2005 they purchased Seraphim Guard Inc (who'd published HeartQuest) and set up as Seraphim Guard Games, thus gaining control of two of the pioneer games produced using the FUDGE system - Domibia had already produced their own Gatecrasher game, a rather fun science fantasy RPG.
They are also responsible for Four Colour, a free superhero game and are working on a game based on the Dead World graphic novels.
Resources for Dungeons & Dragons 3e
Plain Brown Wrapper - RuneQuest resources
Visit their website.
Company Section last updated: 1 November 2014