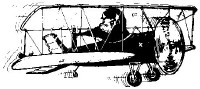 Flying Buffalo has been running since 1970, when it was set up by Rick Loomis to run play-by-mail board and strategy games. He's branched out into card games, board games and role-playing games, and still maintains a lively presence on the convention circuit.
Tunnels and Trolls - a slightly tongue-in-cheek fantasy RPG
Mercenaries, Spies and Private Eyes - pulp/contemporary RPG of cinematic action
Catalyst Series - generic resources aimed at fantasy RPGs, particularly Dungeons & Dragons
Monsters! Monsters! - role-play the monsters, find some adventurers to attack...
Trollzine - journal primarily about Tunnels and Trolls
Visit their website.
Company Section last updated: 15 September 2011