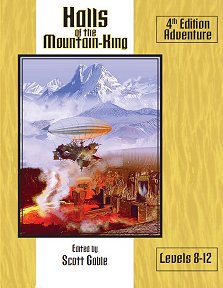 An adventure for 8th to 12th-level characters. that sadly had limited distribution, mostly amongst members of the patronage project. It's the first Open Design project that was designed for a dual release for OGL (3.5) and GSL (4.0) versions.
Publisher's blurb: "Halls of the Mountain King is an untraditional dungeon, an homage to all the great delves, from the Mines of Moria on - with a few new twists.
"The dwarves of the canton of Rygar were a hardworking group, whose mining lured them everdeeper and whose pursuit of ore led them into dangerous territory. This dungeon goes from a snowy mountaintop spire and an airship dock down through the great halls and works of a vanished clan, and into the depths of the earth. The rumors of a huge mass of gold lured miners and speculators into the mountain, but when winter came, the old mines were suddenly a much more difficult place to survive. The passes are snowed in. The airships struggle to arrive with supplies. Deadly new creatures, a sinister brotherhood, and secrets kept locked away for centuries all boil to the surface in a series of challenging and original encounters that take the party from 8th to 12th level.
"Now the party is asked to go up into the Ironcrag peaks and see whether the easy money is, perhaps, not so easy after all."
More when I get hold of a copy!
Book Details:
Authors: Wolfgang Baur, Richard Green, and Ben McFarland
Publishers' Reference: Unknown
ISBN: n/a
PDF, 196 pages
Date: December 2009
Buy this product:
As far as I can discover this was only released as a PDF to patronage project participants and a select few others (as an ENnies judge the year it was entered, I got one!) so it is unlikely to be found... alas.
Product page last updated: 11 June 2011