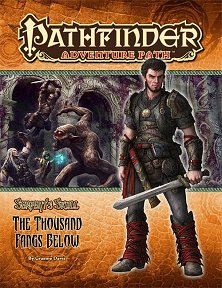 In the penultimate episode of the Serpent's Skull AP, 13th-level characters are challenged by snakes, headless deities and more! Heady stuff...
Publisher's blurb: "All the danger of Saventh-Yhi, the jungle city lost from the modern age, pales before the terrors that lurk below its shattered streets. Beneath the ancient ruins rots a realm of darkness and monsters over which Saventh-Yhi long stood guard. Into the eternal night of that realm below the adventurers delve, coming face to face with the degenerate inheritors of a lost empire, fiend-worshiping denizens of the dark, and the zealots of a decapitated god, all in the hope of saving Eando Kline, one of the greatest explorers the world has ever known. But even if they can manage to free Eando, will the PCs be able to escape his captors, the fanged legions of the serpentfolk?"
More when I get hold of a copy!
Book Details:
Author: Graeme Davis
Publishers' Reference: PZO9041
ISBN: 978-1-60125-276-0
Paperback, 96 pages
Date: January 2011
Buy this product:
Product page last updated: 24 April 2011